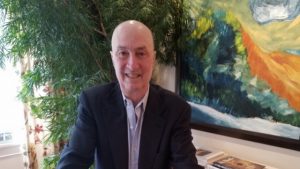 I've lived a fortunate life.
That might seem like an odd pronouncement coming from someone who has spent the last seven years on a medical odyssey: a bout with cancer, open-heart surgery, and four spinal operations, among other adventures.
But having largely worked my way through that tunnel, I couldn't feel more blessed.
As I've been making the transition to part-time law practice after an extremely rewarding but sometimes relentlessly "full-time" career as an attorney specializing in complex commercial litigation, I've had time to reflect on just how fortunate I've been:
A wonderful 28 year marriage to a loving and ridiculously supportive wife; two terrific sons, now young men, who are forging their own very different paths in life; a long, fulfilling career with a single law firm (increasingly a rarity these days) where I have built life-long relationships with colleagues and clients alike; and a wide circle of friends who have shared so many good times and been there for us during the challenging years.
And I know how fortunate I am to be in a position to make this transition: To be able to do more of the public interest work I've wanted to make my primary focus; to have time to continue my quest as an enthusiastic but poor jazz piano student and fly fisherman; to be regaining the strength to move a bit more on the tennis court.
And to take a shot at writing this blog – almost like beginning a new career at the age of 64, with all the youthful excitement of embarking on a new adventure, together with the uncertainty of not knowing whether I will be any good at it, or where it will lead.
Finally, I'm lucky to be able to do this just for fun, hoping only that some of the musings I'll share on a wide array of topics will be of interest and possibly sometimes even some help to others, and that I'll learn and grow in the process.