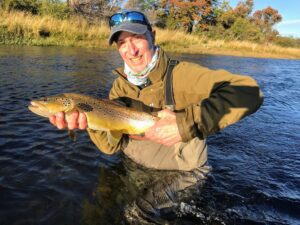 It's been over six years since I launched Reflections Across the Spectrum after having worked for over thirty-five years as a commercial litigator at a large law firm, followed by three  years recovering from a bone marrow transplant, open heart surgery, and the last of four spinal surgeries. I'm in a very different place than six years ago, so I thought it would make sense to update this page so as to more accurately reflect what the blog has turned out to be.
Approaching ten years from my September 2103 transplant, thanks to extraordinary doctors and nurses I've been healthy and active. At 70, I'm working part time,  playing tennis, biking, continuing with jazz piano lessons, fly fishing when I can, and doing some writing. Rather than doing commercial litigation, I'm now devoting all my professional time to public interest work: pro bono litigation primarily on behalf of victims of human trafficking and domestic violence, many serving long prison sentences for killing their abusers, and chairing the board of an agency helping NYC children and families that was founded by Alexander Hamilton's widow, Eliza.
As for this blog, if nothing else, my 50 posts have certainly ranged across a broad, perhaps absurd, spectrum. In addition to writing about my experience battling cancer and "life lessons" learned over the course of my legal career, I've shared my reflections on such random topics as my oddball love of the NYC subways, Pain, hitchhiking across America,  the 23rd Psalm, the bum rap Millennials get, books that have moved me, the travails of learning to play an instrument as an adult, the wonders of Maine's loons and mergansers, and the ups and downs of aging, including the challenges we lucky ones face  as we transition from all-consuming careers to whatever comes next.
I've  written just a few posts on politics–with one of my earliest, The Demise of an Optimist in the Era of Double-Down Donald, written a month before Trump's inauguration. My wife, Melissa, has urged me to leave the political punditry to the professional pundits and, somewhat reluctantly, I've largely complied and held my tongue. I haven't yet  written any profiles of fascinating people, as I'd anticipated,  which is disappointing because I would like to write about some amazing people I've gotten to know who would not otherwise be profiled and whose stories should be told.
In any event, I've enjoyed writing these posts, have learned in the process, and hope that others have enjoyed reading at least a few of them. I've received some valuable feedback over time, some in the comments to posts but  more often in emails. I hope you'll continue to share your thoughts with me and, when you're comfortable with other readers as well.
A Sampling of Recent Posts
The perhaps unlikely array of topics I've written about to date includes: