Last month I had to give the eulogy for my father, who passed away shortly before turning 90 and just 10 days after we'd moved him to a home specializing in caring for people with dementia. I'd known for a while that the day for the eulogy was coming, and awaited it anxiously. So, two years earlier, as my dad continued to fade further away and it became harder to see him as he'd once been, I wrote the draft that follows below to preserve my memories and so I wouldn't have to scramble and fail to do him justice when he eventually passed away.
The funeral service was limited to family, a handful of my parents' friends, and two women who'd cared for my father round the clock during his final years. I didn't say everything I'd written two years earlier, and I spoke about some things that aren't in this "draft." I'm putting this out there now because several friends who remember good times with my dad have asked to see a copy of my eulogy, and others who didn't know him have asked what he was like. But there's an additional reason: While the life story of each one of our parents is obviously unique, for those of us either in or approaching our 60's (or even 70's), the experiences of our still living and recently departed parents will undoubtedly have much in common—as all of them rode, and were sometimes buffeted by, the same life-transforming waves of the 20th century. And for our children, our parents' common story tells—in human terms—of a wholly unrecognizable world that shaped our kids' lives in ways they can only learn about from history books and our stories. I addressed my remarks mostly to the four grandchildren my dad adored.
*******************************
Draft of Eulogy for Dad—1928-__
May 6, 2016: I'm writing now so when the time comes to deliver Dad's eulogy—which seems to be steadily approaching—I won't have forgotten more than I already have as I watch him continue to recede. I'm writing now so when the time comes I can give him the sendoff he deserves. And I'm writing now because perhaps setting this image of Dad into type will make it easier to be a better son—to see him more often, rather than shying away so I'll have a better chance of remembering him as he was; guiltily waiting for him to die so I can return to seeing my real father. I'll try to do that now. But as I write, I'm constantly reminded of how much of Dad's story I never knew, never asked him about, or have forgotten. And, while my mother has filled in some of the gaps, I kick myself for having already missed the boat by not having talked more to Dad when he could still tell the story himself.
Early Days
Born in 1928 to his Russian immigrant parents—Jack and Anna—who fled the pogroms for America in the early 1900's, my dad was a product of a bygone, unrecognizable world. Along with his older sister Gert and his brother Bill, six years his senior, Dad slept in the living room of the family's two-bedroom Bronx apartment (one bedroom was rented to a house painter who helped pay the rent while Jack was out of work for several years during the Depression). Jack, Uncle Benny (Little Benny) and their crew played pinochle in the living room most nights—providing Dad with a lifetime ability to snore through anything. His stories were probably much like those of other Bronx kids who grew up in the pre-flight, pre-TV, pre-telephone, pre-refrigerator, pre-everything-we-know Depression era: the iceman climbing the stairs to their walk-up apartments, lugging the huge blocks that would last them for days; the family huddled around the radio during the War; kids sneaking into Yankee Stadium; and playing the hallmark Bronx sports—stickball and handball. Despite the hard times there had to have been a constant stream of jokes—courtesy of my Grandpa Jack, a sheet metal worker for 50 years in the same shop from whence he got all his jokes and all the news that wasn't contained in his Yiddish newspaper, much of which was wrong, either in the telling or the listening.
Dad's nickname was "Lefty," and that he was. While I can't visualize or appreciate the feat, I gather that Dad could hit "2 sewers"—the distance between sewers on the Bronx streets being the measure used in stickball to determine how far the Spaulding rubber ball had travelled off the broomstick bat (according to Dad, Willie Mays could hit a ball four sewers). Handball, played against the tall cement walls in the Bronx playgrounds may have been Dad's best sport, but he couldn't compete with his older brother.
City College Days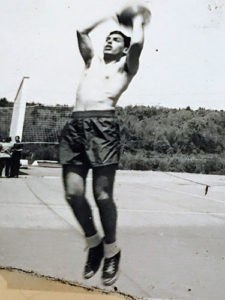 Like many smart kids in those days, Dad skipped two grades and, at the age of 16, found himself at City College—where so many of the Bronx Jews without money went. While Dad was clearly very smart—and had a seemingly magical ability to do any math problem in his head—my favorite stories about Dad's college career were of his stint on City's national contending basketball team. The team was coached by the legendary Nat Holman, mentor of Red Holtzman, who decades later steered the Knicks to their only NBA championships. My father, I came to learn in later years, had actually been on City's JV team. He played just a few years before the Varsity first won the NCAA championship and then plunged into infamy with the exposure of the notorious 1951 point-shaving scandal that still pops-up near the top of a Google search on City College basketball these 65 years later. But Dad did get to see Nat Holman up close, and as my coach, he taught me from the bible he studied on the court at City.
Although the world should have been open to Dad upon his graduation from City at 19—and although he was well-suited for more traditionally-intellectual pursuits—my father bypassed graduate school and followed the urging of a family friend into the world of insurance.
Mom—and Moving Up to Dobbs Ferry
While the facts are fuzzy, I gather that Dad met my Brooklyn-born mother, Toby, at some type of left-wing political event. What I do know is that given that she was 15 and he was 19, the year would have been 1947, two years after the War, and they wouldn't have met in the neighborhood, in school, or through their families, who were worlds apart in just about every way but their politics. While I don't have many stories of their courtship, their recounting of the famous Peekskill anti-communist riot of 1949 stands out, as I recall my parents' tale of having their bus stoned on the way to or from the gathering, at which the legendary Paul Robeson was to perform.
They married in 1950, and had me two years later, which I gather rendered Dad exempt from the draft for the Korean War. We lived in Flushing until moving up in the world to the largely Jewish Beacon Hill garden apartment complex in Dobbs Ferry. We vacationed in Ronkonkoma—not quite the Hamptons, but it was Long Island. Although I recall my parents wistfully saying that if my dad could only make $20,000 they'd be in the middle class, they must have been doing ok, at least for a while, because by the early 1960's we had graduated once again, this time to the 3 bedroom apartment across the hall, enabling my sister Debbie and me to have separate bedrooms.
It Was All About The Family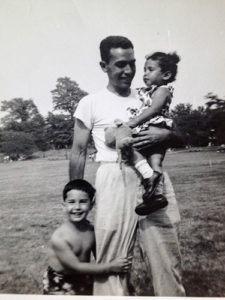 Although I didn't know it at the time, there were apparently hard times. Unbeknownst to me, my dad was unemployed for a few years and I gather that our family survived only through a loan from Mom's Uncle Teddy, who lived down the hill from us on Beacon Hill. And in other ways too, our lives revolved around family—so different from today's world in which friends have so often supplanted family ties as our main social networks. Most weekends included a trip back to Grandpa Jack's and Grandma Anna's apartment on Clay Avenue in the Bronx for dinners from the standard Russian Jewish menu: Borscht (which none of the kids liked), cream latkes, potato latkes, noodle kugel and other delicacies—all cooked in chicken fat—including my favorite, lungen blintzes (made from cow's lungs). I didn't know until recently that the FDA had made it illegal in 1971 to save and sell livestock lungs for human consumption.
Many weekends and holidays were spent at Aunt Gert and Uncle Sy's house in Mt Vernon. The highlight of those events for me was seeing our cousins, Ella and Gene, and later the pornography collection I discovered in Gene's closet while he was away at BU studying drama. Gene did make occasional trips home, including for Thanksgiving when, as a rebellious macrobiotic, he feasted on his small jar of brown rice as the family worried about what would become of him. But Gene stuck to his guns. After a post-graduation stint acting with the nudist Living Theatre Company (it may not be true but I heard he treated my Grandma Anna to a complimentary seat), Gene went on to found one of the first organic cereal companies and made millions. The other novelty of Aunt Gert's house in Mt. Vernon was the motorized chair that carried her up to the 2d floor bedroom, and soon to her early death at the hands of a pulmonary disease.
On special occasions we had weekend family dinners at Dominick's, the renowned Italian restaurant on Arthur Avenue in the Bronx, which our family mistakenly believed was a steakhouse—we never even tasted the Italian food. Dominick's was our family favorite until some guy at Grandpa Jack's shop misinformed him that Dominick's had burned down, leading to a two-year hiatus until my mother accidentally stumbled upon the unblemished restaurant. In the meantime, our weekly dinners at my grandparents on Clay Avenue came to an end as one after another of their neighbors was mugged and the Jewish exodus from the Bronx proceeded. Along with thousands of their compatriots, Grandpa Jack and Grandma Anna were reluctantly resettled in the mammoth new apartment complex known as Coop City—which they hated. Jack died not long thereafter.
Dad Was My Coach
Saturday mornings were devoted to our baseball games in Gould Park, at the foot of Beacon Hill. Beyond teaching me to hit and field, the lesson from Dad I recall most vividly came when he publicly reamed me for making fun of my friend Barry, who had polio, as he struggled to run to first base. These 50+ years later I can still see Barry courageously dragging his body up the baseline and the tirade from Dad that followed when I mocked him.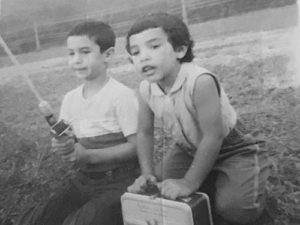 Drawing on his City College experience, Dad also taught me the fundamentals of basketball that stuck with me as I moved through high-school to co-captaining the Dobbs Ferry High School basketball team—including how to use my elbows and box-out bigger guys (most guys were). He also stretched beyond his Bronx roots, giving birth to my love of fly fishing. One of our favorite family photos (black and white) was snapped after Debbie and I had fished on the banks of the Hudson River in Dobbs Ferry for several hours using Dad's Bronx-born notion of bait—bread and cheese. Not surprisingly, we'd caught nothing. In later years, Dad also taught me to play tennis even though he'd never played the game, which he picked up at the same time.
While I learned a lot from Dad, we didn't have a lot of deep father-to-son talks. I remember him giving me only one piece of advice, and having only one "talk" with my dad. The advice was that I shouldn't worry about making a lot of money as I decided upon a potential career; I should just do what seemed right and, while I might not be rich, I'd be fine. Simple but wise advice that I've passed along many times. The "talk" occurred as I was about to leave for Woodstock in the summer of 1969.  In the narrow hallway of our Beacon Hill apartment, and obviously acting on the orders of my mother, my father awkwardly muttered something about using a condom. Still a virgin, all I could think was "I should be so lucky."
Dad Was Successful—But Had To Adjust
Within the insurance world to which he'd been steered, Dad was successful. Rebounding from his stint of unemployment, Dad went into business with two friends"—Hank and Frank. While Frank dropped out after a while for reasons unknown to me, Dad and Hank continued for a number of years. They had what was known as a "General Agency"—a link between the insurance companies and brokers who sold the company policies. After Hank and Dad split, Dad continued doing business as Complete Accident and Health Agency. And he did well, not just because he knew the business and was so adept with numbers and complex formulae, but in large part due to his people skills. Dad had great and long-lasting relationships—people liked and trusted him. For my part, what I remember best about his work was riding down to the Dobbs Ferry train station with Mom for pick-up each night, and excitedly running to greet Dad as he got off the train from the City (except when he slept through the stop and we had to drive up to Croton, the end of the route, to retrieve him). I also loved riding the train to Manhattan with Dad on Saturday mornings so I could work alongside him in his office. I don't know if what I did was of any real use, but I got paid $2 an hour; I felt important; and Dad always took me to the now-shuttered Stage Delicatessen for lunch. And Dad was successful. We graduated from our Chevy to Oldsmobiles, and then, in 1972 made the big move to the ranch house in Greenwich that my parents, Debbie and I quickly came to love.
At about that same time, however, Dad had to make a big adjustment. He had been the bread winner and the clear head of the family until Mom's career took off. She had dropped out of Queens College after just one semester when I was born, and then went to work as a bookkeeper when Debbie and I were kids—pretty unusual in those days. Mom then went back to college—first part time and then, when we went to high school, as a full time student at Lehman College in the Bronx. Graduating with a degree in biology at about the time we graduated from high school (me in 1970, Debbie in 1971), Mom was admitted to Cornell Medical School. Due to her "advanced age" (around 38), and apparently also to her status as a married woman, Cornell would only admit her as a PhD candidate, not in the program for would-be doctors. Nevertheless, from there it was on to a Post-Doctorate program and then to a career at Columbia Medical School where, after beginning as a researcher, Mom won awards for Best Teacher and was ultimately made a Full Professor. Dad became the "First Husband," as Mom had the kind of prestigious career he might have had under different circumstances—and often the spotlight. Dad had to adjust, and my sense was that he did—taking great pride in Mom's success and respected stature. I suspect he may have felt a tinge of envy at the same time.
Dad Was Passionate
In the meantime, Dad's financial success continued. Due largely to Mom's schedule, they bought a small apartment on Madison Avenue in Manhattan where they stayed most weekdays until selling the Greenwich house several years later and buying a larger apartment in the same building. And they loved the City, taking in concerts, plays, dance performances, and museum exhibitions—about each of which Dad had strong and unshakable opinions. In fact, Dad was opinionated and passionate about virtually everything. But above all, he was intensely passionate about his family, politics, and sports. I gather that after Kruschev's famous 1956 Secret Speech—which left so many American Communists feeling betrayed and duped—Dad morphed into a mainstream, hardcore Democrat. And then he was all in. No one could defend Bill Clinton more ardently or loudly than my father. He would castigate Clinton's dishonest accusers with disgust. My wife used to say that she could start a family feud by suggesting Bill Clinton had sneezed. Arguing with Dad over politics wasn't fun—and debating sports was no different. I found watching a ball game with Dad to be exhausting, as he lambasted the stupidity of the coaches on all our teams—except for Red Holzman—and the ineptitude of great ball players for whom Dad had no use (the Yankees' Mark Teixeira was just one). In fact, the only people who had any success arguing sports with Dad were his two sports-savvy grandsons: My nephew, Oliver, and my son, Tommy. (Even as youngsters, these two also demonstrated that they'd inherited my father's remarkable facility with numbers, whereas my niece Anna, and my older son, Harris, were always more drawn to verbal pursuits.) Tommy came of age as a virtual sports encyclopedia just as Dad was beginning to fade. He had a tough time debating Tommy, not only due to Tommy's mastery of the stats, but more importantly, because his love for Tommy impeded Dad's characteristic zeal in the arguments.
Despite his dementia, in his own distant way Dad continues to love the apartment—full of light, looking out on the city he so loved. Dad was a poster child for the iconic New Yorker cover in which Manhattan occupies almost the entire U.S. map. But the passion is gone—or, at least the ability to express it. (I can only imagine what Dad would have had to say if he could express his views about Donald Trump.) I worry now about how frustrating it must be for Dad as he tries without success to communicate the simplest thoughts. I think it's just easier for him to look at magazine pictures and doze.
From the cement handball courts of the Depression-era Bronx to his successful business and home in Greenwich, replete with a two car garage housing a Lexus and an old Mercedes, Dad travelled quite a distance. He rode, and sometimes struggled against, the waves of dizzying change that coursed through America during his long life, leaving the world of the Bronx iceman invisible. And like others' life stories that bear many similarities, the story of Dad's life is at the same time unique: A product of the intelligence, loving nature, generosity, and passion that made him Dad.
As I get older, I see and hear more of Dad in myself. Sometimes this happens in ways I don't feel good about: like when I look in a mirror and see the same bulge in the stomach, below my navel, that Dad had—a bulge that won't go away no matter how much weight I lose or how many crunches I do.  Sometimes I see my father in myself when I become impatient more quickly than I should. On a brighter note, but one that is not without a tinge of sadness, I sometimes hear Dad's voice in mine when I talk to people, especially if I'm extending a friendly greeting. Small reminders that I'll always be his son.
As it turned out, this is not the eulogy I set out to draft. But it was good, at least for me, to go back over the years and look at my father's rich life and all he meant to us. With this refreshed picture of Dad now in mind, I'll be better prepared to write that eulogy when the time comes—and hopefully be a better son in the meantime.
My father passed away on Tuesday, March 6, 2018. I gave his eulogy on Friday morning, March 9, 2018. He would have turned 90 on March 25th.